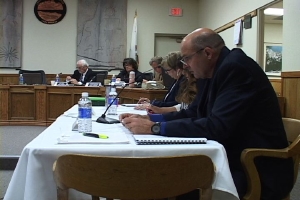 Inyo and Los Angeles officials will sit down to talk common issues Thursday at 1pm in the Supervisors Board Room.
The first agenda item says it is an action item which means approval of documentation of actions from the April 29th meeting. Second item is an update of runoff and operations. It is unknown exactly what details of runoff and operations the group will face. The drought has caused much less water to flow down creek beds and the aqueduct. All of that impacts ranchers and Los Angeles.
Officials will offer a report on the resolution of the Blackrock 94 dispute. Legislative bodies of both Inyo and LA have okayed that resolution which does include a cutback of Department of Water and Power groundwater pumping but does not include immediate mitigation of substantial damage done in that area.
Item number 4 calls for a progress report on enhancement/ mitigation projects. LADWP had dragged its feet over the years on a number of these projects. Apparently there has been some progress.
Number 5 is Public Comment and after that discussion on a schedule for future Standing Committee meetings.