Stanley Allen Matlick, a man who continued his family's fight for water in the Eastern Sierra, has died.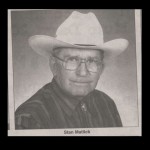 Mr. Matlick passed away Thursday, May 16 at Renown Regional Medical Center in Reno after a brief illness; he lived 81 wonderful years, said his daughter, Margaret. A funeral service is set for Thursday, May 30th, at First United Methodist Church in Bishop at 11 a.m.
Mr. Matlick was born August 21, 1931 in Bishop at home on the family ranch to Edwin and Ella Matlick. He spent his childhood years helping his parents on the Matlick ranch and played a part in creating Bishop history.
Stan graduated from Bishop Union High School in 1949; he continued his education at Cal Poly-San Luis Obispo until he was drafted into the army in 1952. Stan was company clerk in the Korean War, serving two years of active duty and then in the reserves for six years. Stan continued his college education and graduated in 1955.
Stan had met Roberta Rogers while in he was in high school and when she came to Bishop to start her teaching career.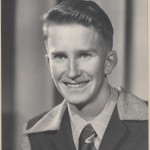 Stan and Roberta were married in 1955 and lived life together for 56 years until Roberta's passing in 2012.
Stan continued ranching until 1966 when he leased out the land and went to work for the propane companies. He retired in 1984 and became a property manager.
Mr. Matlick was a very active member of the Bishop community. When his children were young, he served in many capacities with the 4-H program. He was very proud of his 52 years of membership in the local Veterans of Foreign Wars.
He also served many years with the Bishop Homecoming and Labor Day Association.
Stan was on the Laws Railroad Museum board for 14 years and he also served on the board for the Eastern Sierra Communty Service District for 29 years.
Stan served in numerous positions during his 50 years in the Bishop Lions Club. He received many honors during this time, including "Citizen of the Year'" and the "Melvin Jones Fellowship Award." In 2001, Stan was named "Best Friend of the Packers" for the Mule Days celebration.
Sierra Wave's Benett Kessler said of Mr. Matlick: "It was his family that won the Hillside Decree which kept the Los Angeles Department of Water and Power from pumping water for export from Bishop. He unstintingly stood up against DWP's harm to the valley, fearlessly returning to court to defend the Hillside Decree. He steadfastly spoke out against the Long Term Water Agrrement. And he famously said, 'It won't be worth the paper it was written on.' Words that ring true today as Inyo suffers with nearly unworkable procedures in that agreement."
Mr. Matlick checked the pumps as recently as December and January on Bishop Cone and told the Inyo Water Department, Water Commission and Sierra Wave Media that three wells were pumping steadily in the Bishop area in December and January. Matlick said he believed there weren't enough uses on the Bishop Cone for all that water. He believed some of it went down the aqueduct where it's not supposed to go.
Water Director Bob Harrington said that his department checked with DWP officials who indicated they needed the pumped water for "stock water and for Buckley Pond." In January, Harrington said it appeared there were not enough uses going on to justify the amount DWP was pumping. Harrington said Inyo requested that they turn off some pumps. He said DWP told his Department they would shut off one or more.
Stan Matlick initiated that move by DWP.
Stan and his late wife were honored earlier this year by the Bishop City Council. Stan and daughter, Margaret, attended the meeting. Councilwoman Susan Cullen read a statement about the Matlicks and why the Council chose them for the Quarterly Citizen Award.
Cullen listed the many community activities of Roberta and Mr. Matlick's years of service to the community. She added that Mr. Matlick fought to prevent new DWP wells on the Bishop Cone to preserve the environment.
Benett Kessler, in previous articles, noted it was Stan's father and family back in the 1930s, who went to court and won the Hillside Decree, an historic court order that prevents the LADWP from pumping water for export in a wide area in and around Bishop and nearly down to Big Pine.
The DWP tried to defeat that order in the 1980s, but Stan fought back. He personally stood up to Los Angeles and funded the legal battle to protect Bishop. It is the only area of the Owens Valley with these protections.
Even when it wasn't popular, Mr. Matlick stood up at scores of meetings over the years on behalf of the Owens Valley environment. His famous quote years ago haunts Inyo County today. When citizens fought against the Inyo-DWP Long Term Water Agreement, Matlick said, "You will find this agreement isn't worth the paper it's written on."
There were many others in the area who privately commented how the Matlicks had supported them in a time of need, changing the course of their lives for the better.
Stan loved the outdoors. He enjoyed fishing, camping and hiking. He worked for several pack stations in the area taking pack trips as the cook.
Mr. Matlick is survived by his son, Bob, and wife, Diane; daughter, Margaret; grandson, Kyle, and wife, Rebecca; and stepgrandsons Jacob and Zachary James.
Funeral services Thursday, May 30th, 11 a.m, at First United Methodist Church, internment will follow at West Line Street Cemetary with the VFW officiating.
The family requests in lieu of flowers donations be made to the Laws Museum, the Friendship Center at the Methodist Church or the Owens Valley Water Committee.