Inyo County Sheriff's Department press release
Last night at approximately 10:40pm Inyo County Sheriff's Dispatch received an emergency call requesting an ambulance on Watson Street in Big Pine due to a stabbing.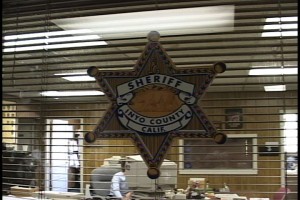 Sheriff's Deputies arrived on scene and determined that one male subject had been stabbed; the victim was unresponsive and was immediately transported to Northern Inyo Hospital.
Interviews conducted with witnesses at the scene indicated there were three subjects with the victim: Bryce Williams 32-years old from Bishop, Jobe In-the-Woods 27-years old from Big Pine, and Ethan Williams 23-years old from Bishop. Investigators would like to interview these three subjects to determine what occurred.
Additionally, witnesses stated Bryce Williams stole a vehicle prior to deputies arriving on scene. The stolen vehicle is described as a 1998 white Nissan Frontier pick-up truck with the following California plate: 5X07934.
The Inyo County Sheriff's Office is asking for the public's assistance in locating Bryce Williams, Jobe In-the Woods, and Ethan Williams as well as information on the whereabouts of the stolen truck.
If anyone has any information that could assist Inyo County Sheriff's Office in this case, you are encouraged to contact us at 760-878-0383.
###
Bishop Police Department press release
On the evening of Wednesday, August 19, 2015, at approximately 4:25 PM, the Bishop Police Department received a call of an unconscious adult male subject at a Bishop area residence.
Bishop Police Officers and medical personnel arrived a short time later and found Harmey Jefferson Bancroft, age 36 of Bishop, deceased in his bed.
There were no signs of trauma or anything to indicate foul play may have been involved at the time the body was discovered.
On Thursday August 20, 2015 an autopsy was conducted and preliminary results would tend to indicate that Mr. Bancroft died of natural causes.
Further investigation is pending toxicology and additional lab results.
###
CHP press release
On Wednesday, August 19, 2015, at approximately 11:45 A.M., California Highway Patrol (CHP) were dispatched to a traffic collision on State Route 120, .3 miles east of Saddle Bags Lake Rd.
The preliminary investigation indicates Simon Aveling was driving a 2015 Chevy Sonic westbound on SR 120, east of Saddle Bags Lake Rd., in the eastbound traffic lane. Stuart Smith was driving a 2014 Nissan Sentra eastbound on SR-120 west of Saddle Bags Lake Rd.
As Mr. Smith came around a curve in the roadway he encountered Mr. Aveling traveling westbound in the eastbound traffic lane. Neither party were able to avoid the traffic collision and the vehicles hit head on, causing major injuries to the Mr. Smith and moderate injuries to Mrs. Smith.
Mr. and Mrs. Smith were transported to Mammoth Hospital by Mono County Paramedics. Mr. Aveling suffered minor injuries but declined treatment at the scene.