Incident overview:
The Spring Peak Fire was first reported on August 18 at approximately 10:39 a.m. Lightning on August 17 is the primary cause. The fire is burning in light, flashy fuels and is wind-driven.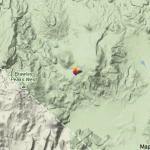 The fire is located approximately 24-miles southwest of Hawthorne, Nevada, and 12-miles northeast of Mono Lake, California. The fire has crossed the California state line and is now approximately three miles east of Bodie State Historical Park (CA State Parks), where structure protection fire engines are stationed and dozer lines are being reenforced.
Access to Bodie State Historical Park was closed Monday evening (8/19) until further notice; CA State Route 270 (Bodie Road) and the Cottonwood Road running north from CA State Route 167 will be closed to all traffic except fire and emergency vehicles. Historical mining structures and the cemetery at the old Aurora townsite have been protected.
Several active mines in the area are threatened and are under a voluntary evacuation. The Sierra Front Type III Incident Management Team (IC Mike Brown) is managing the fire. ICP is in Bridgeport, CA.
Basic Information Incident Type Wildfire Cause Lightning Date of Origin Sunday August 18th, 2013 approx. 10:30 AM Location 15 miles NE of Mono Lake; 25 miles SW of Hawthrone, NV Incident Commander Mike Brown Current Situation Total Personnel 218 Size 12,600 acres Percent Contained 15% Estimated Containment Date Sunday August 25th, 2013 approx. 06:00 PM Fuels Involved Grass, brush, pinyon pine and juniper.
Fire Behavior Fire progress was slowed over night with increased humidity and some precipitation over the fire area. Some small runs and interior torching were observed in the early afternoon.
Significant Events The fire remained active but crews were able to achieve some success working with aircraft, burn operations, and line construction. Significant thunderstorms were experienced in and around the fire area producing erratic winds. Outlook Planned Actions Continued line construction and mop up. Growth Potential High Terrain Difficulty High Current Weather Wind Conditions 25 mph Temperature 84 degrees Humidity 22%.
Information from Inciweb