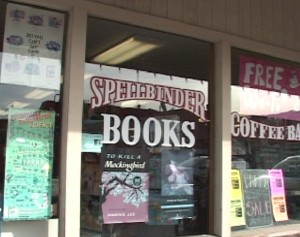 The Northern California Independent Booksellers Association (NCIBA) recently awarded the prestigious honor of "Outstanding Community Bookstore" to local book retailer Spellbinder Books in Bishop.
Lynne Almeida, owner of Spellbinder, says she was surprised and pleased when she received the news and made a special trip to Oakland for the presentation at the Association's annual trade show. "It is really nice to receive that recognition from our peer group", she says.
The award is given annually to a member that showcases the features of community involvement and support that independent bookstores are known for around the country. She is quick, however, to attribute much of the success to the local community.
"You can't have that in a store if you don't have the flip side of it in the community," she says. "If we didn't have that base of support we couldn't be here to do what we do in the community.
The Spellbinder community is broader than just Bishop, Almeida says, with customers from Tonopah to Ridgecrest who consider Spellbinder their local bookstore.
Almeida bought Spellbinder Books in 2000 and in the 10 years she has owned the store she says it has been challenging to put all the pieces together and make it work. "It is different from being in a large urban place, but I absolutely love living here," she says.
Coming from Stanford University Bookstore as a buyer, Almeida says that although Spellbinder is small, this community is far more diverse and it makes planning and book selection much more difficult. She and her team review endless information about new titles and hand pick what they believe will suit this community best. She also says that, contrary to what is often written about the state of education and the youth, our local kids are frequent customers and Spellbinder Books is continually expanding the teen and youth reading sections.
"We've got a lot of kids who … this is just part of their route that they drop by at lunch or on their way home from school," says Almeida. "I think there's a lot of kids who just really, really enjoy reading."
In addition to the bricks and mortar store, Spellbinder has a well maintained website which offers online ordering, book reservation, book reviews and information on upcoming events.
"Two of our staff here are really good bloggers," says Almeida and while she does not expect or want everyone to just order their books online it is a handy thing to use. "Obviously we're not open 24 hours a day," she adds.
Events at Spellbinder are an important part of the business and while they don't provide much to the bottom line, "They're fun," says Almeida and adds, "It is, or should be, part of the mission of an independent bookstore to provide some sort of interesting cultural, educational and fun things for the people in the community."
Spellbinder celebrates 40 years in business and 10 years of ownership by Lynne Almeida in November and an anniversary sale and party are planned for this weekend.
From Friday to Sunday, November 5th – 7th the Spellbinder 40th Anniversary Sale offers customers a Buy 3 and get the 4th Free' special. On Saturday, November 6th from 6pm celebrate 1970 with a costume contest, karaoke and Watergate salad, among other delicacies of the 1970s that Almeida says she has been researching.
To find out more about Spellbinder Books and upcoming events log on to:
www.spellbinderbookstore.com or call: (760) 873-4511.