A PLEA TO EASTERN SIERRA RESIDENTS AND BEYOND: UPCOMING DOCUMENTARY FILM SERIES; 
ONGOING WATER WARS WITH LOS ANGELES  (Press Release)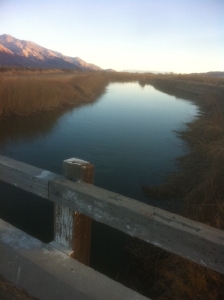 Owens Valley Committee (OVC) and award-winning Bristlecone Media join forces to produce 
Slake: Water and Power in the Eastern Sierra
, a documentary film series that documents ongoing environmental struggles occurring in the Eastern Sierra due to continued water extraction by the Los Angeles Department of Water and Power.
This project is timely as the 100-year anniversary of the Los Angeles Aqueduct is being celebrated. Once complete, Slake will be available freely on the web and to media outlets. In addition it will be screened to groups in Los Angeles, Owens Valley, and greater California.
OVC has initiated an online fundraising campaign and is seeking tax-deductible donations to fund 
Slake
.  To view the film project trailer and to donate to the campaign please visit the following link:  
http://igg.me/at/slake/x/2947420
Water diversions and groundwater pumping by the Los Angeles Department of Water and Power (LADWP) continue to inflict severe damage to the environment and threaten local economies. Due to LADWP's practices entire springs and Owens Lake have disappeared, leaving behind toxic dust clouds and destroyed ecosystems. The Owens River is only partially restored, water tables have been lowered, and vegetation and wildlife hangs in the balance.  Since 1983, local non-profit, OVC has worked tirelessly to fight these environmental crimes.
But the conflict over water is far from over. In an era of Climate Change, the value of water is increasing. Today, the LADWP, one of the largest utilities in the country, continues its destructive water practices. Through excessive litigation, delay, and failure to honor its agreements, the agency continues to unleash damage to ecosystems and further marginalizes residents of Inyo County, a county with 0.49% of the population of the City of Los Angeles.
"We cannot make this important educational project happen without public support. Concerned citizens must join in our effort. Slake has the power to hold DWP accountable", says Nina Weisman, Communications Director of OVC."