For Inyo County people, discovery of actual facts about the location of a new, $30 million court building resembles a mystery novel. Who did what, when, with whose knowledge? The State Administrative Office of the Courts issued a vague statement and we have learned that two Bishop realtors are dealing with the state for a Bishop court building location.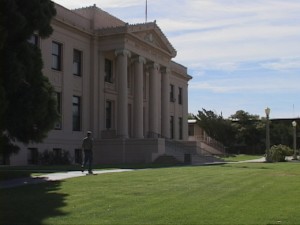 For a number of years, a new court building was planned for the County Seat of Independence, then suddenly, out of left field, Judge Brian Lamb said the project would go to Bishop.
Teresa Ruano, Communication Specialist for the State, emailed us this non-committal statement:
"The Court, the Project Advisory Group, and the Administrative Office of the Courts are working together on courthouse facility plans, as we have since the project's formal start. We appreciate the public's interest in this project, but we need additional time to determine next steps and what options may be feasible within the limits of our resources."
0 0 0
The statement goes on to say, "The AOC and the Court are in agreement that we want to come up with the best solution to improve access to justice for all residents of Inyo County, and that is going to take some time and additional work. We also agree that we need more opportunities to gather input from o0ur stakeholders and the public, but plans for that are not set yet."
Ms. Ruano failed to answer our persistent questions about when the State decided to switch the project from Independence to Bishop and why. Since the strong public objections at a meeting in Independence, Inyo's two judges agreed to reconsider the switch to Bishop, so perhaps the State has retrenched too.
What we do know, the State now works with Bishop realtor, Nancy Lowthorp in the Coldwell Banker office, presumably on a Bishop location. Ms. Lowthorp declined to comment and said that the State told her to refer all questions to Joanne Williamson, Administrative Director of the Courts. However, she had earlier declined to make any comment on this issue. Williamson was present at the Independence meeting.
Rick DeVore at Century 21 Real Estate in Bishop confirmed that the State proposed an offer on the old Kmart building on Main St. in Bishop, but there is no firm deal.
Other sources said the Courts had looked at three DWP parcels in Bishop at Spruce and Yaney, on North Sierra Hwy and South St. Also, a private parcel at the corner of Highway 6 and Wye Rd. owned by the Joseph family .
Earlier, several locations were determined in Independence. Meanwhile, citizens have started a Facebook page for Independence and other citizens continue to try to seek out facts and convince officials to maintain a sizeable court project in the County Seat.