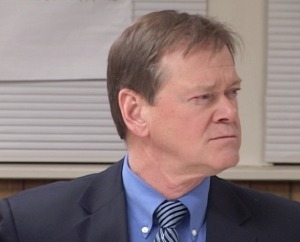 In a six-page Employee Resignation Agreement, former Bishop City Administrator Jim Southworth "voluntarily" resigned, but the agreement says he will be paid $46,352 in severance according to his employment agreement with the City.  That agreement says that in the case of termination without cause, the City shall pay Southworth cash equal to four months pay and four months of health benefits.
Officials have been very closed mouthed about the departure of Southworth only 10 months into his  5-year agreement.  A brief press release said that the Bishop City Council and Southworth announce their "mutual decision to end Jim's employment…."  The release went on to say that "Council Members and Jim share a relationship of mutual respect and friendship, but circumstances which are not the fault of either party led to this mutual decision."  Officials declined to explain the "circumstances".
The Resignation Agreement says that the "City and Southworth have negotiated an early and voluntary termination." The terms of the agreement say that Southworth's employment shall terminate on August 8.  The document also says that "Southworth's termination as City Administrator/ City Clerk shall be deemed a voluntary termination by Southworth by resignation for all purposes."
The agreement says Southworth will receive $46,352, which is four months pay and health benefits for four months.  The City also agreed not to contest Southworth's application for unemployment insurance benefits as a result of termination of employment.
Another provision of the Resignation Agreement says that "This Agreement shall in no way be deemed an admission of liability, fault or any other culpable or inappropriate conduct on the part of any party hereto."  That phrase may be as far as either party goes to explain to the public why they no longer have a City Administrator.  Some have speculated irreconcilable differences of personality.  Neither side will say.
Southworth's original employment agreement with the City of Bishop says that he made $135,000 per year and that his pay was raised to $139,000 in July.  His agreement also included full benefits, a flexible work schedule and $7,000 to pay for his relocation to Bishop.
Acting City Administrator Keith Caldwell did say that the City initially contracted with Avery and Associates to recruit a city administrator.  Officials said that in December of 2009 the City Council approved the contract with Avery for a City Administrator search and paid $15,000 plus expenses limited to $7,000.  According to that contract, for Avery to now complete a new administrator search, the City would pay expenses only, again not to exceed $7,000. However, officials said that at this time there are no plans to search for a new administrator.