Press release
On Sunday, August 12, Wildcare Eastern Sierra director Cindy Kamler answered a late emergency call. Two summer residents of Lundy Canyon had just rescued a young Bald Eagle they spotted on the ground; he was unable to fly and was limping on one foot.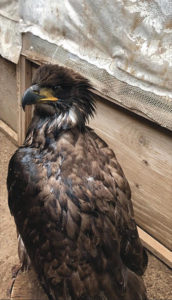 Patricia and Richard could only get cell service by driving several miles to Highway 395. Voicemails went back and forth between Wildcare and the rescuers. Finally it was arranged: they would keep the eagle overnight in a carrier and drive him from their Lee Vining area home to the Center at Keough's Hot Springs the next day.
The frightened and hungry young eagle arrived mid-day. An examination found him to be in generally good condition except for an unusual wound on his foot. He was placed in a medium-size flight cage and was soon gulping down some trout. His feather growth and behavior suggested he had only recently flown from his nest, possibly on his first flight. "Our hope was to return him to his nest or to his parents if his wound healed quickly," explained Assistant Director Kelly Bahr.
However, a follow-up exam two days later found that the foot wound was worsening and he could not use two of his toes. Feedback from Ojai Raptor Center director Kim Stroud, after seeing photos of the feet, was: "It is most likely electrocution."
A few days later, blisters appeared on the tips of both wings. "The blisters, coupled with the growing damage to the feet, confirmed Kim's diagnosis," explained Director Kamler. "The current had entered through the ends of both wings, traveled through the center of
the body, and exited through the foot. There was no way to stop the slow spread of damage caused by the passage of the electricity. The only way to relieve this young bird of pain was to euthanize."
"Our wild patients are brought to us because something is wrong," said Kamler. "They may be hurt or orphaned or just in the wrong place and our hearts go out to them. We provide care and treatment and are rewarded when we see the once-injured Red-tailed Hawk fly free once more. We smile to watch the young fox scurry off to mom after we cut him free from a chain link fence. And sometimes, our hearts are broken."