Press release
"Women in the Sand, A Story of Death Valley's Original People" Screens in Lone Pine
The Museum of Western Film History in Lone Pine will host two screenings of the acclaimed documentary film, "Women in the Sand, A Story of Death Valley's Original People." The film will be shown on Saturday, Feb.23 at 1 p.m. and 3 p.m. in the museum's movie theater.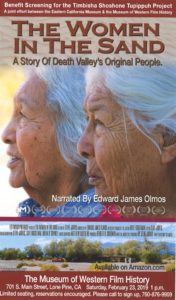 Please call the museum at 760-876-9909 to make a reservation for the 3 p.m. screening. All available seats for the 1 p.m. show have been reserved. There is no fee to see the film, however, donations from both screenings will go to the Timbisha Shoshone Tribe's Tupippuah Project to benefit the tribe.
The film tells the story of "two feisty Timbisha Shoshone elders," Pauline Esteves, 93, a longtime activist on Native American issues, and her sister-in-law, Madeline Esteves, 84, a traditional Timbisha basket maker, noted Steve Jarvis, the film's director, writer and producer. The film reveals the pair's first-hand stories of living a traditional, nomadic lifestyle in Death Valley made up of hunting, gathering wild food, visiting sacred sites and participating in ancient tribal rituals, Jarvis said.
Filmed in the Timbisha's homeland in what is now Death Valley National Park, the film details how "for the past 60 years these tenacious women have fought for the tribe's survival against mining companies, the Bureau of Indian Affairs, the National Park Service, con men and scoundrels of all types," Jarvis said. "Undaunted, they continue to follow their ancestors' wishes and fight to save their culture."
The film has won numerous awards, and was an official selection at the 2017 Native American Film Festival and the 2018 Toronto International Independent Film Festival.
After the 1 p.m. screening, Pauline and Madeline and Jarvis will be available to take questions. Jarvis has confirmed he will be on hand for a Q&A session after the 3 p.m. screening.
The film showings are co-sponsored by the Museum of Western Film History and the Friends of the Eastern California Museum.
For reservations and more information, call the Museum of Western Film History at 760-876-9909.