The cruel part of high gas prices revealed itself in Friday's meeting of the Eastern Sierra Transit Board – gas prices will drive up expenses for bus service and revenues have dropped. ESTA Board members fell short of painful cuts in service to those who can least afford it.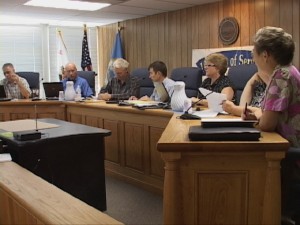 ESTA Director John Helm gave the Board the news that revenues through the Local Transportation Commissions had dropped while gas prices pushed expenses up. Helm proposed several service cuts and use of some reserve money to make up the $167,000 budget shortfall.
Some Board members said that the word of proposed cuts had not been made clear to the public. Members of the public agreed that they had been caught off guard.
Anna Kathleen Stewart, a disabled woman from Lone Pine, politely asked the Board to keep current bus service. She also said that people seem to make decisions and the customers and disabled are in the dark.
In the end, Board members agreed to eliminate a very lightly used Mountain Express route between Mammoth and June Lake, to eliminate the little used Lone Pine – Olancha – Keeler route with the provision that those in need could call Dial A Ride, and to maintain Lone Pine Dial A Ride service.
The Board delayed a decision on cutbacks in the Bishop and Walker Dial A Ride services. They'll look at that again at their July 18th meeting in Mammoth Lakes.
Officials noted that they would also consider another fare increase. They made it clear specific information must be made available to the public well before the next meeting.
The Transit Board is made up of Supervisors and City council members from Mono, Inyo, Mammoth and Bishop.