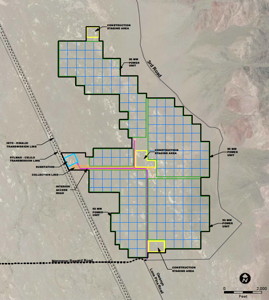 When Department of Water and Power official, Michael Webster, visited the Inyo Supervisors this month, he revealed that DWP has several solar and renewable energy projects either breaking ground or about to. So, how much of the renewable energy picture is the controversial Solar Ranch south of Independence?
At the April 15th meeting, Webster said DWP has already achieved 20% of its power generation from renewable energy sources. The State has mandated that utilities generate 33% of their electricity from renewable energy sources by the year 2020. So, DWP needs 13% more. LA has plans for all of that.
After the meeting, Webster did provide Sierra Wave Media with more details about where DWP will get its power. He said 1.9% of the remaining 13% of renewable energy needed will come from Copper Mountain which is a 210 megawatt solar project in Eldorado Valley. Another solar project, Moapa Southern Paiute Solar, 30 miles northwest of Las Vegas, will provide 2.44%. It is a 250 megawatt project. The Southern Owens Valley Solar Project is 200 megawatts and will contribute 1.9% of the 13% still required.
The three projects equal 6 3/4% of the requirement. Webster said the rest of the renewable energy demand will come from projects from "other parts of DWP's transmission system and locally in LA."
Owens Valley people continue to strongly oppose the Solar Ranch project which is 1.9% of the State's mandated 33% renewable energy from DWP. Organized locals along with the Manzanar Committee have kept a sharp eye on DWP's environmental review of the Solar Ranch project and have vowed to continue their opposition.  DWP says continued comments or questions can be sent to:
Chuck Holloway
111 North Hope Street, Room 1044
Los Angeles, CA  90012