Press release
GRID Alternatives and Bishop Paiute Tribe Celebrate Youth Solar Job Training Through Solar Futures Program
 Recognition ceremony for Tribal youth who learned photovoltaic (PV) basics and installed solar systems for local families is on Thursday, June 28, at 12:00 pm in Bishop
Location:
298 N Winuba Lane
Bishop, CA  93514
City of Bishop, CA; June 28, 2018 –  Nonprofit GRID Alternatives Inland Empire will join the Bishop Paiute Tribe at a celebratory event recognizing the skills development of local tribal youth participating in GRID's Solar Futures initiative.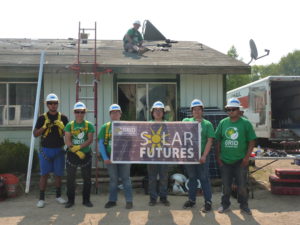 The students are learning about solar energy by attending training sessions designed to build the knowledge necessary to obtain employment in one of the fastest growing segments of the economy. The program is sponsored through grants from the Department of Energy and the California Public Utilities Commission's Single-family Affordable Solar Housing (SASH) program. The primary goal is to provide work experience and education using a "classroom in the field" for job trainees, giving them hands-on experience in the field of solar installation.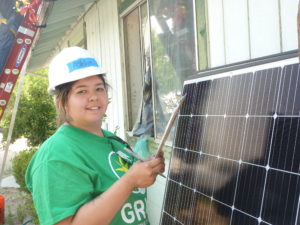 The comprehensive learn and earn skills development opportunity has three distinct phases. In phase one at least 10 individuals will spend a minimum of 46 hours attending workshops focused on building experience in every aspect of the solar industry. Then in phase two, three young adults will put skills learned to work during a three-month paid internship installing solar electric systems. Phase three will see one participant hired as a SolarCorps Construction Fellow, a 12-month fellowship working for a solar construction company.
Students will step away from the program with hands-on experience, a certificate authenticating their skills learned and a professionally reviewed resume. Those who progress through phase two will complete the Installation Basic Training program and begin the process to take the North American Board of Certified Energy Practitioners (NABCEP) solar installer exam.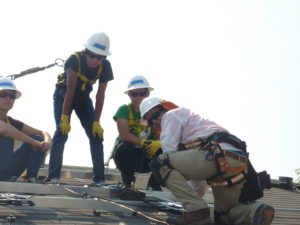 "The classroom training was interesting as we learned about system design essentials as well as how much solar can save homeowners on their electric bill," said job trainee Ashlyn Hess. "We are now actually installing a system. I am impressed with GRID as the staff is patient and always willing to answer questions as the job progresses."
The Tribe's self-sufficiency, strategic plan and environmental stewardship will be advanced through this job training program. It is a very unique, detailed job training opportunity, the first offered by the solar industry to Native American youth. Training programs are held in high regard within the Bishop Paiute community. There is abundant sunshine and opening career choices in a field that is growing aligns closely to the Tribe's employment goals.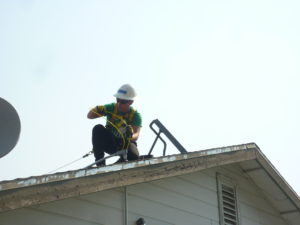 Over the last five years GRID Alternatives has partnered with over 30 tribes nationally to install solar electric systems for nearly 600 tribal member families—2.8 MW of clean power—saving them up to 75 percent on electricity costs, and trained tribal members in solar installation. GRID Alternatives formally launched its national tribal program in 2014 with a long-term goal of building permanent infrastructure to make solar power and job training accessible to tribal governments throughout the United States.
###
About GRID Alternatives
GRID Alternatives is a nonprofit organization that makes renewable energy technology and job training accessible to underserved communities, bringing together community partners, volunteers and job trainees to implement solar power and energy efficiency for low-income families. More than 10,500 families have benefited from GRID's work to date, saving $322 million in lifetime electricity costs, and over 37,000 people have received solar training. GRIDAlternatives has ten regional offices and affiliates serving California, Colorado, the mid-Atlantic region, Nicaragua international, and Tribal communities nationwide. For more information, visit www.gridalternatives.org.
About Bishop Paiute Tribe
The Bishop Paiute Tribe is a sovereign nation governed by the Tribal Council, a board of 5 members elected by the General Council. The tribe is located at the foot of the Eastern Sierra Nevada Mountains and is the fifth largest tribe in California with around 2,000 enrolled members.
The tribe provides members with various programs and services and operates a variety of tribally owned entities and enterprises. The tribe is engaged in progressive development and highly values self-sufficiency, self-reliance, and maintains committed to being a strong self-governing sovereign nation. The culture of the Paiute people is deeply embedded with the surrounding environment. The natural resources provided by land, water, and air, have been safeguarded by the tribe for numerous years. The traditions of the Paiutes are alive and active today, and can be witnessed in one of the tribes many traditional functions and festivities.