– Press release
The Metabolic Studio is Hosting One Hundred Conversations About Water During the Centenary of the LA Aqueduct.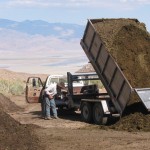 Conversation Number 28 of One Hundred Conversations About Water:
The Metabolic Studio Soil Exchange will take place on Thursday, July 18 at the Owens Valley Growers Cooperative in Independence.
Derived from the Greek word for change, 'metabolism' is the process that maintains life. In continuous cycles of creation and destruction metabolism transforms nutrients into energy and matter. Working to sustain these cycles, the Metabolic Studio transforms resources into energy, actions, and objects that nurture life. Led by artist and philanthropist Lauren Bon, it is a studio for practice at the intersection of art and philanthropy.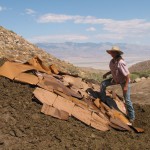 The Metabolic Studio Soil Exchange is a food sovereignty project of Metabolic Studio LLC. By transforming manure, water, and waste carbons such as leaves and cardboard into compost the project aims to capacitate the region toward food sovereignty, offering local growers improved soil.
2013 marks the fourth season of producing and distributing high quality finished compost to local residents who grow, or desire to grow food. The project is a community collaboration with local Pack Stations (manure), local businesses (cardboard), neighbors (leaves), and the larger community who, by receiving the compost, commit to producing more food for the region.
To date, approximately 500 cubic yards of top quality, ready to plant composted soil have been produced to date and distributed to more than 150 growing sites in Southern Inyo County. This season the project plans to produce and distribute 200 cubic yards to local food producers.
Trust and Time
The Owens Valley is isolated, sparsely populated, and economically challenged. Local food production not only addresses issues of healthy food choices, it can provide viable currency through sales, trades, relationships and local empowerment. In the tradition of small towns and isolated regions across the country, the Owens Valley has its own story of once being self-sustaining. Local agriculture fed the region and provided work. Produce acted as currency, and families were kept solvent.
Today, the Owens Valley grows food from soil built on trust. We trust each other to take the time to produce more food. Lauren Bon and the Metabolic Studio turns money to "dirt" and entrusts the Valley with not only transforming the dirt to an even greater value, but to acknowledge our larger role in keeping our community strong.
Composted soil is distributed as an exchange of capital, of trust and of time, for the hard work and commitment of local residents to grow more food toward regional food sovereignty. In addition to the straightforward exchange of trust and time, compost users are encouraged to see their role in the community as one of vital participation. Most residents in our small towns engage in civic support in a variety of ways, or they are looking for ways to engage. The Soil Project sparks dialogue, and provides a catalyst for community strength.
Growing Our Capacity to Eat Locally, Together
Together with the efforts of Owens Valley Growers and supportive residents, the Soil Project has helped our region move toward a locally based sustainable food system.
"My family and I are in our first year of food production here in the Owens Valley. We face many challenges with poor soil, rocks, etc. The generosity of the Metabolic Studio Soil Exchange has kick-started our production and allowed us to generate an abundance of healthy food for our community." – Jennifer Weston of Glacier Botanicals in Big Pine.
"Keeler has terrible soil. Growing food here is certainly a challenge. The high quality of the soil we received from the Metabolic Studio Soil Exchange has increased our product quality and quantity so that we are able to give more food back to the community. " – Sherry Cosgrove and Glenn Young of Keeler
The Metabolic Studio Soil Exchange is located at DelaCour Ranch in Lone Pine, CA. At 5,500 feet elevation, DelaCour Ranch sits above the Owens Valley, in the Eastern Sierra. DelaCour strives toward systems of community supportive, closed loop eco-farming.
"The Soil Exchange has been pivotal in helping us to develop systems of use and re-use here at the ranch, " explains project leader Julie Fought. "What is often considered waste is transformed into a valuable resource for our community. It's been an honor to get to know local growers through this amazing project."
Artist Lauren Bon and Compost Maker Julie Fought will speak at a Conversation about the Soil Exchange on Thursday, July 18t at 7 pm at the Owens Valley Growers Cooperative Building, 149 South Edwards St (Rte. 395) @ Kearsarge in Independence.