The California Highway Patrol (CHP) Bishop Area will conduct a sobriety checkpoint on Saturday, April 25, 2015, in Inyo County.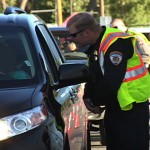 "All too often, members of our community are senselessly injured or killed on local roadways by impaired drivers," said Captain Timothy Noyes, Area Commander of the CHP's Bishop Office.
Officers will be contacting drivers passing through the checkpoint for signs of alcohol and/or drug impairment. The goal of the CHP is to ensure the safe passage of each and every motorist. A sobriety checkpoint is a proven effective tool for achieving this goal and is designed to augment existing patrol operations. "By publicizing our efforts we believe ti..t we can deter motorists from drinking while driving and/or driving while unlicensed," Captain Noyes said.
Captain Noyes emphasized, "Traffic volume permitting, all vehicles will be checked for drivers who are under the influence of alcohol and/or drugs. Our objective is to send a clear message to those individuals that mixing alcohol and/or drugs while driving will not be tolerated. The CHP seeks to enhance highway safety by apprehending the impaired driver."
Funding for this checkpoint is provided to the CHP by a grant from the California Office of Traffic Safety, through the National Highway Traffic Safety Administration, reminding everyone to continue to work together to bring an end to these tragedies. If you see a drunk driver, call 9-1-1.