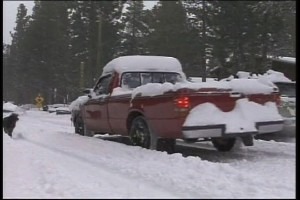 The Mammoth Lakes Police Department would like to remind residents, visitors, and business owners that parking is prohibited on Town streets between Novermber 1 through April 30.  Obstructing snow removal equipment is also prohibited.
The Police Department only enforces these sections when it is snowing, or after a storm while snow removal equipment is in operation.  Motorists should be aware of weather forecasts and make sure their vehicles are off the street when snow removal equipment is operating or may be operating.  Any accumulation of snow means the plows will be out and the snow removal is not complete until the snow blowers have removed berms created by the plows.
Vehicles should always be parked behind the snow stakes.  Operating snow removal equipment is complicated and when there are heavy accumulations of snow, vehicles parked partially on the street side of the stakes cannot always be observed.  A passenger vehicle struck by snow removal equipment can receive substantial damage and if the vehicle is parked on the street side of the stakes, the accident is the fault of the driver of the illegally parked vehicle.
Please help the Town of Mammoth Lakes in its snow removal operations by parking legally during Winter months.