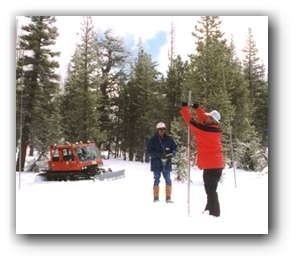 The snowpack in California provides water for about one-third of the state's people and farms. This year, that source has remained less than half of normal for this time of year. State reservoirs do still hold quite a bit of water which will help supplement that serious lack of snow in the Sierra.
Director of Water Operations for the Los Angeles Department of Water and Power, Martin Adams, spoke to the Inyo Supervisors Tuesday and as an aside said that the snowpack will be "below 50%." He said the water flow down the aqueduct to Los Angeles may be "the lowest on record." He called it a "dire year". Adams said that some are saying this could be the beginning of a 100-year dry period.
From experience, Owens Valley people know that means extreme pressure on the resources of the Eastern Sierra to supply LA. DWP's website shows the April 1st snow situation as well below normal in most areas. The Mammoth Pass snowpack, which is the hallmark for the Sierra, dropped down to below the long-term average but still above last year.
Snow pillow measurements show Mammoth Pass at 82% of normal. Every place else sits under 50%. Rock Creek, 17%. South Lake, 39%. Big Pine Creek, 32% and Cottonwood Lakes in the south at 19%.
Precipitation figures loom low too. Long Valley sits at 37% of normal to date. Bishop, 20%. Big Pine, 16%. Independence, 24%. South Haiwee, 12% and Los Angeles at 43%.
Adams said that LADWP will issue more information on the water year after examining statewide and local conditions. The State Department of Water Resources said that this January and February were record dry months, dating back to 1895.