As you can imagine, the snowpack has shot up considerably over the last few weeks. The LADWP website shows current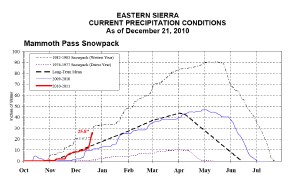 precipitation conditions as of December 21st.
The snowpack graph shows the line going up, similar to the wettest year on record which was 1982-83. Of course there are a few more months to go. DWP's snow sensors show Mammoth Pass at 182% of normal to date. Rock Creek, 284%, Big Pine Creek, 244%, and Cottonwood Lakes in the south at 313% of normal to date.
Precipitation figures show Long Valley at 370% of normal to date, Bishop at 453%, Big Pine, 447%, and Independence at a whopping 549% of normal to date.