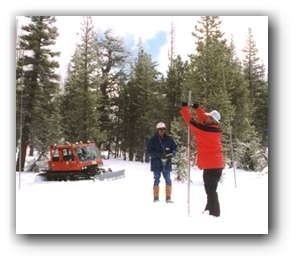 The State Department of Water Resources recently conducted this winter's third snow survey. Surveyors have now been quoted as saying that water content in the mountain snowpack is "well below normal for the date." This according to the DWR website.
According to surveyors, the snowpack in all parts of California has not lost much water content since the first survey on January 2nd, but it has not continued to build due to warm weather and lack of snow. State surveyors say the snowpack water content is only 66% of average for this time of year.
The Los Angeles Department of Water and Power website shows that Mammoth Pass snowpack has dropped to 84% of normal to date. The water content has dropped to 32 inches which sits below the long-term average for the Eastern Sierra but well above last year.
The LADWP Precipitation Conditions graphs show Gem Pass at 79% of normal to date. Mammoth, 84%. Rock Creek, 60%. South Lake, 63%. Big Pine Creek, 46%. And, Cottonwood Lakes at 32%. At the end of December, all of these percentages looked much higher. At that point, Mammoth Pass sat at 145% of normal to date. Since the end of last year, the hefty snowfall did not continue.
Precipitation measurements on DWP's site look dismal too. Long Valley measures 42% of normal to date. Bishop, 23%. Big Pine, 18%. Independence, 26%. South Haiwee, 12%, and Los Angeles – 46% of normal to date.
Officials say even late March snow will not make up for the lack of snow in part of January and most of February. On the business side of weather, Mammoth Mountain Ski Area has received plenty of snow – roughly 24 feet with almost another foot of new snow in recent storms.