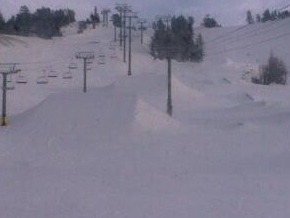 Not much, but some more snow fell Monday in the Eastern Sierra.  Mammoth Mountain reported six to eight inches of new snow.  Residents in Mammoth measured about 4 inches.
Other parts of the Sierra added up some new inches of snow with rain reported in parts of the Owens Valley. Bishop residents saw some snowfall, but it melted quickly.
The Los Angeles Department of Water and Power website shows an increase in the snowpack over the driest years of 1976-77.  The Mammoth Pass Snowpack now measures 8.3 inches of water content.  That's about 4 inches above February, 1977. These measurements do not include the snowfall this week.
Earlier, Department of Water Resources Chief Hydrologist Maury Roos called recent storms "a little helpful".  He also pointed out that about 60% of the snow season has already gone by.  Roos said California would do well to get "half of the normal run-off."
At last count on February 8, LADWP shows snow pillow readings well below normal.  Mammoth Pass sits at 28% of normal to date; South Lake, 46%; Big Pine Creek, 34%; and Cottonwood Lakes, 49%.
Predictions do call for some more snow action Wednesday.