The last round of storms has pushed the snowpack at Mammoth Pass to just about normal for the season.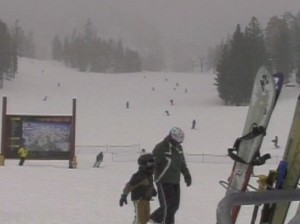 Green shoots already springing up in the valleys, along with a visible blanket of snow on the mountains points toward a good winter for water.
As the season winds down, the LADWP website shows that the water content of the snowpack at the Eastern Sierra measuring sites is either a touch below normal for the season to well above normal for the season.
More storms may yet bring additional snow to the Sierra, but the LADWP measures the season total on April 1. At 42.7 inches of water content, Mammoth Pass is listed at 98% of normal for the season total. Rock Creek is listed at 87% of normal for the season through April 1. Big Pine Creek is just shy of normal for the season with 99%.
Other locations have come in above normal for season total. Gem Pass near June Lake is listed at 104% of normal with 36.3 inches of water content. South Lake is listed at 124% of normal for the season, and Cottonwood Lakes near Lone Pine is listed at 107% of normal for the season.
At Mammoth Mountain Ski Area, the snowfall total so far is listed at 493 inches. 38 inches of new snow has fallen in April so far. An average year at Mammoth Mountain is listed at 342 inches of snow.
Last summer, Forecaster Dennis Mattinson predicted the seasons snowfall to be 458 inches at Mammoth Mountain, lower than what actually arrived. I under predicted, which is pretty good he says, adding, if I was right on, it would be fishy.