The water outlook for the Eastern Sierra in the next two weeks – heavy snowmelt and possible flooding of rivers and streams. The National Weather Service says that flood warnings are in effect for parts of the Walker River and for Mono Lake tributaries as well as for the Upper Owens River tributaries in Mono County and Mammoth Lakes. The Weather Service also says that hiking trails, campgrounds and other areas could experience flooding.
Streams are running high as temperatures have warmed up in recent days. The National Weather Service warns those who would kayak, raft or fish near fast flowing and very cold waters.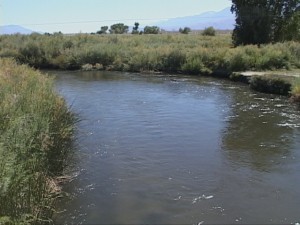 At Mammoth Community Water District, Manager Greg Norby said stream gauges on Mammoth Creek and in the Lakes Basin have shown a four-fold increase in flows in the past three days. Norby said the main water gauge in Town was 40 cubic feet per second but has now gone up to 130 cfs. Norby said the water district is not aware of any potential flooding situations in town. He noted that people who live next to Mammoth Creek usually keep an eye on things.
At the Department of Water and Power, Chris Plakos said they're watching the weather. He said crews have cleaned out ditches and have made room for more water in Crowley Lake and the other reservoirs. Plakos said that crews have also prepared to do some water spreading in the Owens Valley.