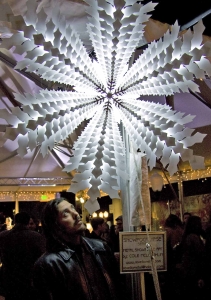 FOR IMMEDIATE RELEASE
Snowflakes At the Westin Monache Resort, Mammoth for Opening Weekend
Hotel Hosting Display & Reception Honoring Renowned Southern California Snowflake Artist
• Meet The Artist Reception on Saturday, November 9 from 5 to 7 p.m. opportunity for visitors to mingle with metal snowflake artist Cole McLaughlin.
• The Westin Monache, Mammoth offers $149 rate per night for November 7-10, 2013.
• McLaughlin to donate two metal masterpieces with proceeds benefitting the Kelly Clark Foundation
Mammoth Lakes, Calif. (October 22, 2013) — On Saturday, November 9, 2013, not all the snowflakes at Mammoth will have fallen from the sky—some will dangle from the walls of  The Westin Monache Resort, Mammoth when the resort hosts an art exhibit and reception showcasing the snowflake artwork of Cole McLaughlin.
Guests also can take advantage of $149 studio and $199 one-bedroom suite per night lodging rates, November 7-10, 2013. But it's not only travelers who will benefit: McLaughlin will auction off two of his masterpieces with proceeds benefiting the Kelly Clark Foundation.
The artist reception from 5 to 7 p.m. on November 9 is an opportunity for visitors to mingle with a craftsperson known for creating stunning metal snowflakes from reclaimed remnant metal. McLaughlin's work has appeared in high-end hotels, bars, and restaurants in Los Angeles and Orange County as well as art and furnishing stores in Los Angeles, Palm Springs, and San Clemente. At The Westin Monache, Mammoth, visitors can appreciate McLaughlin's snowflakes on the walls and ski or ride down the real thing on Mammoth Mountain's slopes.
The event is part of Mammoth Mountain's Opening Day 2013 celebration, which will include live music, food, and drinks on the Main Lodge sundeck each day of the weekend-long celebration and a party at The Underground Lounge each night of the Opening Day 2013 weekend.
Art aficionados can view the metal snowflakes hanging in The Westin Monache lobby and in the Red Fir and Fox Fir meeting rooms. Reception guests will also receive a token holiday ornament/broach as a thank you for attending.