A woman from Saugus snowboarding at Mammoth Mountain on Friday had spent the day on the hill with her husband and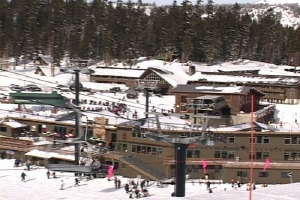 friend. In late afternoon, she decided to make one last run. At the bottom of Chair 2 she ran into a Snowcat and suffered major injuries.
According to Mammoth Police Lt. John Mair, the snowboarder was 43-year-old Kathleen Willhidemichiulis. When she hit the snowcat, the woman got caught in the augur or tow mechanism behind the snowcat. Ski Patrol had to use a large wrench to get her out. The woman suffered major injuries to at least one limb.
Paramedics, police and others responded to get the woman to Mammoth Hospital immediately. Willhidemichiulis's husband had been wiating for her in the parking lot when he saw the emergency vehicles arrive.
Lt. Mair said the injured woman was airlifted out to another hospital with the possibility of amputation.