What happens when the winter storms that attract the winter visitors to the Eastern Sierra are strong enough to keep the new commercial flights from landing at Mammoth-Yosemite Airport?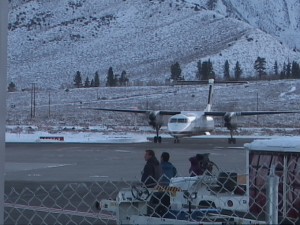 Less than two weeks after the resumption of commercial air service to Mammoth, winter weather has cancelled two of the once a day flights. With the healthy sized storm that blew in last week, Horizon cancelled the flights on Christmas Eve and Christmas Day.

As planned, flights were not re-routed to Bishop. The planes just don't leave the ground in Los Angeles. Jen Boyer with Horizon Air says that all the passengers were either re-booked or received refunds. "It was difficult for us to do," she says, "but the weather in not in our control."

Boyer also said that the storms last week wreaked havoc on flights throughout the Pacific Northwest, with planes stranded in Portland and Seattle. Horizon Air flights to Alaska were also delayed.
Currently the commercial flights to Mammoth Airport require the cloud cover to be 1300 feet off the ground and visibility to be at least three miles, Boyer explained.
Despite two cancelled flights due to the weather, Boyer says that bookings for the flights this holiday season remain "strong." So far Horizon Air is happy with the bookings to Mammoth, she says.