We know the snow lingered a long time in Mammoth Lakes this year – but July in town?!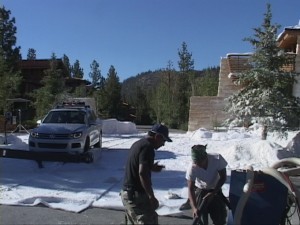 We saw it for ourselves and confirmed that it was Hollywood effects. A production company, section9 Los Angeles, brought a crew to town to set up a scene for a print ad for Volkswagon through the Deutsch Los Angeles Agency.
The crew used the entrance of the Tallus project on Meridian Blvd. for the set-up. The snow actually looks real. It's made with some kind of paper product and blown out with a machine.
The winter time illusion was designed to highlight a brand new VW. The 2011 Touareg. Watch magazines and newspapers for the shot. Producer Gavin Harrison said its fantastic to work in Mammoth. He complimented the community when he said, "The town is amazing and very accommodating for production."
Lots of it these days. Commercials, The Bear Whisperer production and our own Cleland Hoff with her Film Mammoth company working on bringing more crews to town. Nice economic additions.