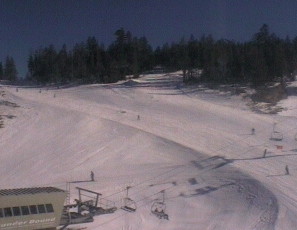 The result of low snow and ultra-warm temperatures in Southern California? Lots of no-shows in Mammoth Lakes.
According to Mammoth Lakes Tourism's town occupancy reports, lodging reservations are down over last year. The Department notes that these figures are put together to help the business community with staffing levels and product ordering. Actual occupancy percentages are reported from lodging to the Town Finance Department after the fact.
But for a general idea of this year over last, the Tourism Department reports that Friday, December 27th through Monday, December 30th lodging occupancy equals 87%. For the same weekend last year, it was 96%. For Tuesday, December 31 through Thursday, January 2nd occupancy is estimated at 79%. Last year, it was 81% for the same midweek time.
Projections for New Year's weekend are Friday, January 3rd through Saturday, January 4th at 55% occupancy. Last year it was 75%. In the foreseeable future, dry and warm conditions are expected to continue.