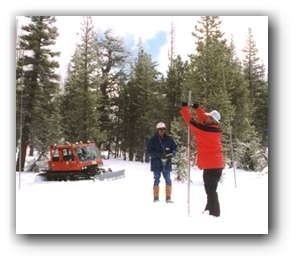 UPDATE: Weather Forecaster Dennis Mattinson adds to this story: "Right now my weather crystal ball doesn't show any significant precipitation until the end of the first week of March. Let me put this another way, we are now exiting what usually is one of the wettest months of the winter, in a dry mode. February 2013 will go down as one of the driest in a long time. March can be wet as well, but it will be very hard to make up for any precipitation lost from February. We are now reaching a "drop dead" point where there are some real concerns, over this winter season and its potential for average precipitation amounts. And right now, the Climate Prediction Center is painting a picture that March will be below average in precipitation as well. We will see…"
Two conditions we live with here in the Eastern Sierra – the snowpack and gas prices – are equally out of our control. Right now, the snowpack has flattened out at just about the long-term average. Gas prices, driven up by many factors, may have leveled off too.
First the snow. According to the Los Angeles Department of Water and Power website, the Mammoth Pass snowpack, in terms of inches of water, sits at 33.4 inches which is right on top of the long term average for this time of year. December and January looked like we might get a banner snow year. February, not so great.
The DWP snow pillow measurements show Mammoth Pass at 99% of normal to date. Rock Creek, 64%. South Lake, 68%. Big Pine Creek, 55%. Cottonwood Lakes, 48%. Precipitation measurements look even more grim. Lee Vining tops the list with 75% of normal to date. Long Valley, 48%. Bishop, 26%. Big Pine, 20%. Independence, 29%.
In the bigger picture, the National Oceanic and Atmospheric Administration reports that dry conditions will continue to cause problems in much of the United States and particularly in the West. According to a story in the Los Angeles Times, "A growing body of research suggests that extreme weather patterns such as drought are being driven by climate change."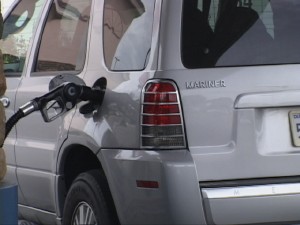 As the Eastern Sierra hopes for the best for our environment, another uncontrollable concern continues – gas price hikes. The U.S. and right here in the Eastern Sierra have sustained something like 50 cents in gas price increases over the past month or so. All of a sudden the expected prices of around $3.50 per gallon shot up to over $4.
Many national news sources like Forbes and the Washington Post point to a higher demand for gasoline since the economy has improved, higher global demand and commodities speculation. According to the Washington Post, traders buy up gasoline futures contracts which pushes up prices. The Post reports that large financial institutions like hedge funds and other Wall Street investors do not buy oil to use it. Instead, they bet on which way prices will go. This often drives up prices at the pump.
Then there is the 48.6 cent per gallon gas tax in California.
As for prices here – a gallon of regular in Bishop and the Owens Valley goes for $3.98 on the low end up to $4.59 on the high end. Mammoth Lakes last saw prices at $4.66 or $4.74 per gallon. Bridgeport comes in at $5.09 per gallon of regular unleaded.
For more than a few, it's a time to try to cut travel and to hope for more snow.