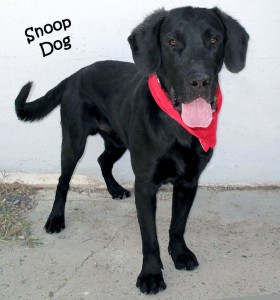 PETS of the WEEK – July 11, 2012
SNOOP DOG
 is a super friendly Black Labrador Retriever. His owner moved and couldn't take him. But Snoop isn't letting that
get him down. He's happy to start a new chapter in his life. How about with you?
GEORGIE
 is just one of the many fluffalicious feline furballs in need of loving homes. Visit the Shelter and save a precious life — take home one or even two!
The Inyo County Animal Shelter has an amazing selection of adorable cats and lovable dogs. Please adopt one today. Visit in person on County Road in Big Pine or on-line at
www.ICAREforPets.org
. HOURS: Tuesday thru Friday, 10 am to 3 pm, Saturday and Sunday 11 am to 4 pm (closed Mondays). Phone 760-938-2715. 
Photos by Lisa Schade of ICARE 
SPECIAL NOTE:  July Pet Adoption Special – During the month of July, the Inyo County Animal Shelter is adopting out animals for $10 to qualified adopters.  www.ICAREforPets.oeg