News release
The Bars Fire, detected near Olancha Pass on September 21, has grown to .75 acres.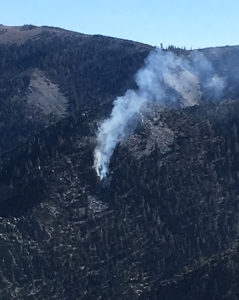 The fire is burning in sagebrush, pinyon/juniper, and white fir. Smoke maybe visible along Hwy 395, west of Olancha, especially in the afternoon. Please do not report this fire.
Crews are using trail systems and natural barriers for containment using Minimum Impact Suppression Tactics (MIST) to help protect wilderness character. Crews are implementing a structure protection plan for nearby structures in the Sage Flat area.There are no evacuations in place at this time. Warmer, sunnier conditions are in the forecast.
This appears to be a lightning-caused fire.