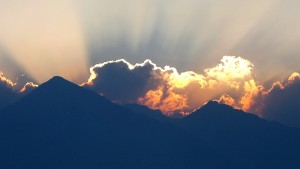 When your job is to record bad smoke days, you have a different perspective than
locals, like those in Owens Valley, who figure if they can't see either mountain range, breathing
will be an issue.
Great Basin Unified Air Pollution Control District's job is to log air quality, so its
perspective was more optimistic. "It's better than last year," Kimberly Mitchell, the district's
research analyst, told the district's board members at last Thursday's meeting. The district
issued fewer unhealthy warnings. Between June 1 and last week, the communities monitored
by Great Basin had 52-percent good air-quality days and only 4-percent, very unhealthy. The
health advisory criteria was reached on eight days within Inyo, Mono and Alpine counties.
As for the 2020 fire season, "it was off the charts horrific," Mitchell said. Alpine County
rep Ron Hames noted the increasing length of the annual fire season and the consistency of
impacts across the district. "We have fire and smoke amnesia," he said.
The district's three counties were impacted by five separate fire incidents so far this
year, Mitchell said, the Tamarack, Dixie, Caldor, French and the latest, the KNP Complex west of
Mount Whitney. The smoke is flowing through the mountain channels on the west side and
hovering over Inyo County communities. The KNP Complex had scorched 21,777 acres as of
Sunday. The anticipated containment date is October 10.
The district has deployed emergency air quality monitors this season in Lone Pine,
Coleville and Bridgeport. With the power outages in Coleville, some of the data was missed.
Solar packs to keep the monitors working "are on our radar," Mitchell said.
According Mitchell, new state funding is in the works to assist people with health issues
during fire and smoke incidents. In response to a question on smoke impacts and health issues,
the answer was simple. Look outside, if it's hazy, limit strenuous outdoor exercise.
For the more technically inclined, start with the Great Basin website,
https://gbuapcd.org and go from there.