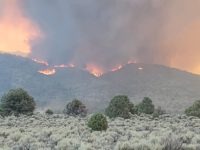 Wildfires in California used to be confined to Autumn. Those days are gone, now fires and residual smoke seem to be a permanent fixture. But, the Eastern Sierra has a resource in the Great Basin Unified Air Pollution Control District with its maps and advisories that help locals understand what's going on and react accordingly.
For current air quality conditions and health advisories, go to https://gbuapc.org . While air quality can change depending on which way the winds blow, Great Basin's site helps locals monitor changes in wind-driven smoke.
Smoke from forest fires often contain gases and particles. The worst of those particles are the very small particulate pollution that can be inhaled into the lungs and cause inflammation as well as irritate the eyes and throat.
In the worst case scenarios, people with asthma, COPD or other lung conditions could have a significant decrease in lung function and be more susceptible to pneumonia, respiratory infections and an increased chance of heart problems. Children and pregnant women are also vulnerable with constant exposure to smoke generated by wildland fires.
GBUAPCD monitors air quality in Mono and Inyo counties but there are other public agencies that do the same thing. Here are other websites to check and, more specifically, what information they provide:
https://fire.airnow.gov/

This is a federal site that presents air quality information in terms of Air Quality Index, or AQI, a nationally standardized sytem for pollution reporting.
For more information on how to protect yourself, go to the GBUAPCD press release on the Sierra Wave website at sierrawave.net.