Politicians with cowboy hats – a familiar sight at Mule Days in Bishop. We caught up with one – Bob Smith, candidate for California Assembly. Smith made it clear the cowboy hat was his and a regular on his head. Smith spent 27 years with San Bernardino County Sheriff's Department, 7 years on the Board of Supervisors, and for the last 2 years Smith worked for Assemblyman Bill Maze. He lists many other public groups and events of involvement.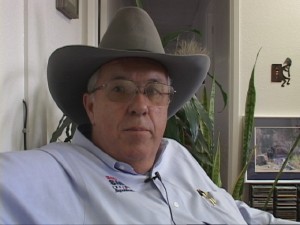 If he makes it to the Assembly, Smith says he wants to tackle the illegal alien problem which he believes is costing hospitals, schools and law enforcement millions.
Smith does not believe state government should deliver health care. As for the State Budget deficit, Smith said he believes the real problem is the way legislators spend in Sacramento. Smith spoke of the $22 billion deficit. He said that he does not approve of the Governors proposal to cut 10% across the board. We need to protect education and public safety, not just make a 10% across the board cut.
Bob Smith is up against Becky Maze who is the wife of former Assemblyman Bill Maze. She's not using her name on her signs around Inyo County which has confused some into thinking that Bill Maze is seeking re-election. He can't due to term limits.
Some have commented that Bob Smith expected to fill Maze's shoes but, instead, found his wife as an opponent.