By Charles James
A smartphone may not be the best choice for many consumers based on need and affordability, but the fact is, smartphones are the most popular type of cell phone sold today. Smartphone sales overtook feature phone (aka, "dumbphone") sales back in 2013 and are now 80% of the market share…and rising.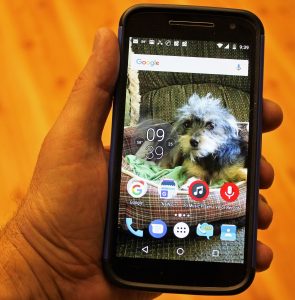 It's a standing joke among wireless phone users their smartphone is smarter than they are." I prefer to think of my smartphone as being "gifted." Whether you use a "feature phone" (aka, dumbphone) or a smartphone, neither says much about the intelligence of the user.
The choice or preference is often decided by a user's comfort level with technology, his or her lifestyle or work needs, and for many, price or affordability.
What is a smartphone? It is a device that lets you make telephone calls, send texts and emails, access the Web (Internet), and serves as a personal digital assistant. It is a personal hand-held computer with an Apple iOS, Android, or Windows operating system that takes photos and videos, records audio, plays music, and lets you download millions of apps that pretty much do almost anything imaginable.
It also has GPS navigation. You can watch videos, movies or television shows on it. And it has a QWERTY keyboard.
Smartphone monthly bills can range as high as $80 to $100 or more a month depending on the carrier, the type of plan, and data usage. Family plans often cut that cost significantly. Increasingly, thanks largely to pressure from T-Mobile's "unlimited plan," other carriers' prices are falling they are now offering their own, more affordable unlimited plans.
The best wireless plan is one that best meets your needs at the best (least) cost. It's possible that you don't use the phone as much as you think. You may be paying for much more data than you need. Pay for large data caps or "unlimited text, calling and data plans," might be a waste of your money. Check your usage over several months to find out your actual usage. If you have a data cap, stay under it! Phone carriers charge a high fee when you go over the limit.
There are a reported 2.2 million mobile apps available on the Apple Store for iOS devices. Google Play features over 2.7 million Android applications. There is literally an app to meet the need or desire of any smartphone user.
One simple way to save money on a smartphone is to hold on to your phone longer. Many new smartphones can be are very expensive. The newly-released Samsung Galaxy S8, for example, costs in the range of $750 to as much as $900. The soon-to-be released Apple iPhone 8 is expected to cost over $900.
While some subsidized monthly payment plans offer discounts, ask yourself, "Do I really need a new phone right now?"
Consumer Reports and others say that "extended replacement or repair warranties" are not worth it for electronic devices. Seldom used, it is mostly guaranteed profit to the phone seller or wireless carrier. Deductibles are also often high, and there is no guarantee that you will even get a "new phone" as a replacement; most likely it will be a refurbished phone. Another reason to avoid paying for an extended warranty is that many major credit cards add an extra year to a manufacturer's warranty.
Use Wi-Fi whenever possible, especially when you're downloading anything that uses a lot of data such as streaming or downloading a movie. And check your bill to see if you are paying for any "extras" that you will never use or already have. You might be able to have some of the "extras" removed from the bill.
Sometimes discounts are available through your employer and for members of non-profit groups and organizations. Special offers and discounts are often available through AARP and the Automobile Club for example.
If you use your wireless phone for your own business, write off some or all the costs as a business expense on your taxes. If you use your phone at work, ask your employer if they have a reimbursement plan or a cost-sharing policy.
Do not be afraid to call your provider and ask for a discount. Wireless service is a very competitive market. It is a commodity and you would be amazed at the lengths your wireless carrier will go to keep your business.
The "churn rate" (i.e., the number of people switching to another company) among wireless providers is very high. Tell your provider that your bill is too high, or the service is unacceptable, or both. Remind them that you have other choices for a wireless provider. If you are a good, long-time customer, they will go to great lengths to not lose you.
For example, a few months ago my wife and I became fed up with our provider. Overage charges were being added to our wireless bills. We were on a family plan. Our son was on it and, yes, he was largely the reason we were regularly going over the data cap.
We called our wireless provider. We told them that we were very unhappy with data overage charges, lousy data cap plan, and fed up with poor signal strength and service where we live.
We were prepared—if not determined—to go to another provider. They transferred us to a special "retention agent." She tripled our data plan, reduced our monthly bill, and sent us a free microcell (a mini cellular tower that boosts cellular performance) which took our "low or no signal strength" to a consistent maximum five bars throughout the house.
A few days ago, I visited with a long-time family friend, "Gino," who is 99 years old. He's hard of hearing, has poor eyesight, and has increasing difficulty walking. He has a flip-phone, but he told me that smartphones are the most significant advance in technology that he has witnessed in the past 50 years. So, why doesn't he get one? "Because I'm 99 years old," Gino replied. "Deal with it!"