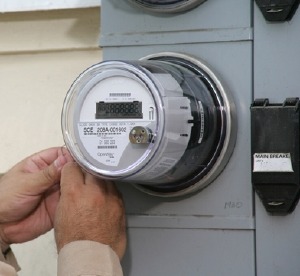 A Smart Meter is an electrical meter that records consumption of electricity and communicates that information to a utility for monitoring and billing. Southern California Edison came to the Eastern Sierra this week to offer a cheerful power point presentation on installation of the state-of-the-art meters in the next few weeks in Inyo and Mono. Many communities and the AARP are not so optimistic.
Edison Project Manager Doug Malousis spoke to both Inyo and Mono Boards of Supervisors Tuesday. He claims that the new meters will allow customers to manage their electricity use online.  The meters send data from individual homes via radio frequency waves to a cellular relay that sends the data on to the utility headquarters on an hour by hour basis.
Malousis said that power outages will be immediately reported to Edison.  He said installers are in the Eastern Sierra now.  The Edison manager did say that there is a program for customers to refuse the Smart Meters, called Opt Out.  The customer has to pay $75 one time and $10 per month to avoid a Smart Meter. So, why would someone want to avoid it?
Nationwide and worldwide, individuals and groups have raised concerns about health effects from the meters' wireless radiation and the fear that utilities will start charging big time for use of power at particular times of day and season as they monitor customers' use patterns with the new meters. This is called a "time of use" scheme also known as "dynamic pricing."
Some news reports say power companies want Smart Meters so they can charge more for electricity during heavy use times which encourages customers to cut back.  This, it is reported, will help the utilities avoid investment in more power generating facilities.  Some groups say there is not enough information on how time of use pricing would impact vulnerable households.
There are also concerns about invasion of privacy.  The meters monitor and broadcast to utility headquarters specific electricity use patterns, times of day, types of appliances used.
Some areas have tried to ban the new meters altogether. Marin County passed an ordinance to keep Smart Meters out, so have other governments in other states. However, the California Public Utilities Commission has okayed the meters with the Opt Out program.
Mr. Malousis of Edison described it in the positive by saying that Smart Meters allow customers to "control their use of electricity."