A bit of a scare this morning when a lightning-caused fire occurred near the new Bristlecone Pine Forest Visitor Center, but the blaze was just a single tree and the yet unopened Visitor Center was never threatened, an Interagency Dispatch spokesman said.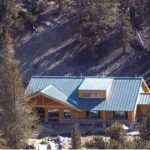 The tree was on a hill above the new building, a "rock's throw" away, said the spokesman. Forest Service personnel were on scene, with Engine 31 out of the White Mountain Ranger Station.
The previous Bristlecone Pine Forest Visitor Center was destroyed by arson a few years ago, and in a press release, Inyo National Forest Supervisor Ed Armenta said he is pleased to announce that the long-anticipated opening of the new Bristlecone Pine Forest Visitor Center on Saturday, September 1.
A grand opening celebration is slated to take place at Schulman Grove with music starting at 1:00 pm and the formal ceremony at 2:00 pm.  The celebration will include music by the Idle Hands String Band, guest speakers, a Paiute blessing , an art exhibit, a ribbon cutting and much more.  Interpretive programs and patio talks will be offered throughout the day.
The press release says the state-of-the-art facility is entirely solar powered and includes a small theatre, beautiful exhibits, stunning architecture and a wonderful new bookstore run by the Eastern Sierra Interpretive Association.  The visitor center is in the same location as the previous facility and is fully handicapped accessible
The grand opening celebration is bound to be an enjoyable event for visitors and locals alike, many of whom have donated to and supported the reconstruction effort.  Those planning on attending the grand opening are urged to carpool with friends and neighbors as parking will be limited.  Additional information on the grand opening can be found at the Inyo National Forest website, www.fs.usda.gov/inyo, or calling John Louth at 760-873-2577.