Clarence F. Mather passed away peacefully at home surrounded by family and friends, leaving sons Peter and Kim.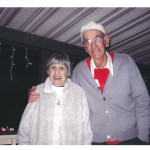 He was preceded in death by his wife, Alberta.
Clarence, widely known as "Slim", taught military pilots to fly during World War II, was a physics and science teacher, a world-renowned free flight airplane competitor, an avid fly-fisherman, lover of the Eastern Sierra and friend.
He will be missed.
Services are set for 11 a.m. Saturday, Jan. 17 at First Presbyterian Church, 585 N. Main St., Bishop.