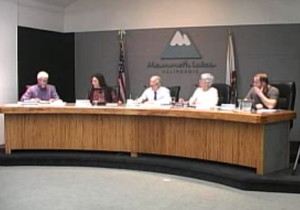 Members of the Mammoth Town Council said it felt like a "slap in the face" when the Mono Supervisors declined to directly contribute to Fourth of July events at Crowley Lake.
Councilman John Eastman pointed to the letter that came from Mono County Administrator Jim Leddy that said the Supervisors were willing to consider the request from the Town for $5,000 in cash to help fund the Fourth of July. But, he said they were actually willing to consider that the Town could apply for a grant through the County to get the money. Councilwoman Jo Bacon said the application date had passed. Town Manager Dan Holler said the grant would have put the Town in competition with County agencies that would have been hard to beat. Holler said the idea was "not viable."
Councilman Eastman said, "Maybe I'm missing something. I can't understand why the Fourth of July at Crowley would not be looked at by the Board of Supervisors, especially those who represent Mammoth Lakes," said Eastman, "and not fall all over themselves to fund a menial distribution for a County function." Eastman said the Board members were "playing a game and creating reasons for not funding this." He said voters in Mammoth Lakes and Crowley should be upset.
Mayor Rick Wood and Mayor Pro Tem Bacon agreed. Eastman turned to an old joke about getting elected. He said, "There's been a saying for many years that Mammoth Lakes elects Board members and at the first meeting a lobotomy is performed in Bridgeport. From then on," he said, "it's difficult for them to represent the community of Mammoth Lakes." Mayor Wood chimed in, "I couldn't have said it better." Councilman Matthew Lehman said the Town did not apply for the County grant, as he saw it, on principle. Said Lehman, "The Fourth of July is something that financially benefits all of us."
Lehman had earlier reported that community efforts had galvanized private donations toward the ultimate goal of $28,000 for fireworks and pops in the park. He said the event will work with private money and a little Town funding. Lehman added that with the dismal winter right now, a focus on summer would help the area "re-cap our losses."
As for the political discord, Mayor Wood added that there is an election June 3rd and Mammoth Supervisors' seats are up for election. Said Wood, "Voters can and do make a difference."