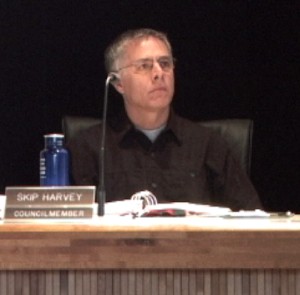 Skip Harvey loved people.  That's why he ran for the Mammoth Town Council and served there for more than eight years.  He never claimed political sophistication, but before he left the Town Council Harvey laid out the cold hard truth about the failed Town.  He also had the grace and sensitivity at his final meeting to call the Eastern Sierra "enchanting and mystical."  Skip Harvey died after a long struggle with cancer Monday morning at the age of 60.  Those he loved were with him. And as if to honor his passing, a stunning Sierra Wave sunset painted the sky with unusual beauty Monday evening.
Skip and I  used to reminisce about being born in Columbus, Ohio.  We  were both native mid-westerners who found warm and sunny California and finally the mountains of the High Sierra.  Harvey found a way to touch a lot of people with his down to earth Base Camp Cafe in Mammoth Lakes.  Then he reached further to political office.
His humble, caring attitude demonstrated his connection to the people even when Council decisions
seemed off base or controversial. On a personal level, Skip quickly became a friend to those who also cared about the wider  community.
At an early May Town Council meeting when officials talked about cutting $3 million more from the Town budget, no one spoke the words bankruptcy nor even the $43 million debt.  Except for Skip Harvey.  He gave voice to the peoples' real fears.
Harvey said he knew the lawsuit debt was the real concern on peoples' minds.  He apologized to the public for not wrapping up the lawsuit issue before he left office.  He pressed the need for the Town to take responsibility for actions that put Mammoth in a big mess.  He advised the Town to cut out the arrogance.  "This has to be changed," he said.
And Skip Harvey could talk about all of this without ego and without negativity.  His candid smile said it all.  Skip Harvey was a man with a warm heart and one who bowed to those in need.  When he stated his truth it was without hatred or anger.
Funeral services for Skip Harvey are pending.