During a special meeting, the Mammoth Lakes Town Council approved the Snowcreek VIII Master Plan, which will allow the development more flexibility in its building envelope when a specific project comes forward.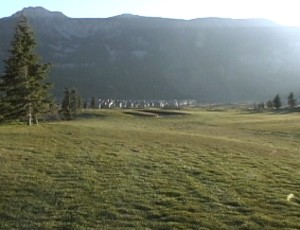 The big item on the table at the special meeting was public access to the Sherwin Range where many skiers and snowboarders recreate during the winter. This issue harkened back to the Ranch Road gate issue of 2005. Snowcreek VIII developer Chuck Lande has agreed to allow an access point from the Sherwins across his golf course to public transit. Ranch Road, Fairway Drive and Snowcreek V homeowners fear this will reignite the problem of backcountry enthusiasts walking through their private properties as they make their egress.
Mammoth Lakes Trails and Public Access, as well as Lande hope that a public education campaign, as well as very visible signage will keep this from happening.
We need to focus not just on the egress point, but on the entire egress route, stated Council woman Wendy Sugimura.
By Lande agreeing to give official access, the route can be groomed and made very visible to those people exiting the area so the problem of wandering onto private property goes away.
Legal counsel for the Ranch Road homeowners, Tim Sanford, stated that his clients would not be happy with the decision to leave the egress point near their neighborhoods.
You still have not explained why Ranch Road is necessary as an egress point, he claimed. This is going to be a continuing headache for my clients.
Council man Skip Harvey stated that he believed the assumptions on Ranch Road were a little bit exaggerated.
Mayor Pro Tem John Eastman added that he had great faith in MLTPA and anyone who supported them. I never thought they could have got Measure R passed, but they did. Eastman believed MLTPA could be just as effective in this situation if MLTPA CEO John Wentworth and Lande could work together efficiently to plan the route.
Council approved the Master Plan with their amendments, unanimously.