A change in the way that lift ticket fraud is handled by the courts has led to increased fines for those caught skiing without buying a ticket.
On the Mono Superior Court calendar for Monday February 22, there were eleven people arraigned for violation of penal code 537(b), lift ticket fraud. The eleven people arraigned were the crop of people caught poaching lifts over the Presidents Day Weekend, according to Deputy Mono District Attorney Jeremy Ibrahim.
Lift ticket fraud comes in many forms. Some people try to ride the lifts without a ticket, hoping to sneak by the lift operator when the crowds get large, others simply borrow a season pass from a friend. Ibrahim says that he has even seen cases where people have rented their season passes to people on craigslist.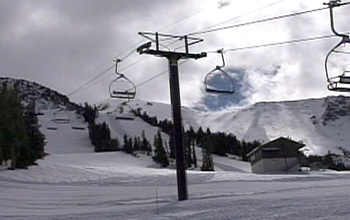 How many people try to ride the lifts without paying is difficult to pin down, but catching people riding on a pass that is not their own is a very common occurrence, according to Bill Cockroft Senior Vice President at Mammoth Mountain Ski Area. Cockroft explained that when staff catches a person using someone elses pass, the person can be cited and the pass is confiscated from the owner of the pass.
To provide incentive to keep a sharp eye out for pass and ticket fraud, lift operators are rewarded for every fraud they catch, Cockroft says.
Ibrahim explained that starting this year ticket fraud is being prosecuted by the DAs office rather than the courts. In years past, the person caught riding the lifts without a ticket would have to pay a fine, which was handled by the courts like a regular ticket. Now the DAs office prosecutes, which means that the person can be forced to pay restitution. For those caught at Mammoth Mountain the restitution is the cost of the $87 lift ticket.
This restitution is on top of the fines for 537(b). While the crime is an infraction, Ibrahim explained that riding without a lift ticket is a form of fraud and the fines are higher than for some misdemeanors. For example, another common charge in Mono County is 647(f), drunk in public. Fines for a drunk in public charge, a misdemeanor, are commonly set at $230. The fines for ticket fraud total $440 in addition to the $87 in resitution.
Since the ski season began in November, Ibrahim says that he handled 21 of these cases, but he adds that Ski Area staff has caught far more people who are handled in house.