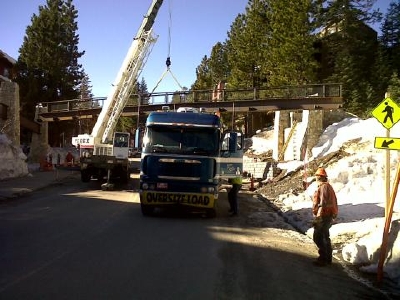 A design long in the works now means a new beautiful amenity at the Village at Mammoth. It's the bridge that connects Mammoth Mountain's ski back trail with the Village. Construction has been underway and will wrap up by next week.
Jim Smith, Ski Area Vice President in charge of planning and development, said that Warren Harrell worked on the original bridge design followed by architect Bruce Woodward who added stone work, pillars and steel.
The bridge will allow those who use the ski back trail to go in and out of the Village and avoid walking on the street level. The ski back trail itself goes from near the bottom of Roller Coaster Express and the top of Chair 7. It traverses a snowy trail through the woods over 7800 linear feet down to the Village.
The ski back trail project had been in the works for something like 30 years. The bridge completes the plan. The ski back trail is viewed as an alternative way to get down off the Mountain and back to town without the use of cars or public transit.