While in the process of trying to work out how to share the Volcom Brothers Skatepark in Mammoth with bikers, the insurance company for the Town shut down any hope of sharing the park.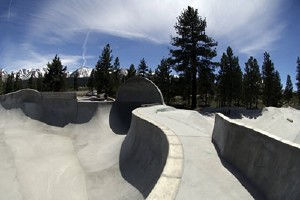 Mammoth Town staff closed the skatepark to bicycles, after what Town spokesman Stuart Brown called "extensive consultation with the Town's insurance authority."
That skaters and bikers flying around the smooth concrete course together could lead to accident or injury certainly seems possible, but Brown says that the Tourism and Recreation Commission was meeting with skatepark users to try to come up with a plan to share the park. At the skatepark in Bishop, this user conflict came up in the past, but CitysStaff and the users agreed to allow bikes in the park for one hour and skateboards in the park for the next hour, switching back and forth every hour.
Brown says that people were ready to discuss schedules, but the insurance company, "trumped any type of joint use." According to the insurance company, the park wasn't designed for bicycles, Brown explained.
While a joint use plan could not be made in the end, Brown writes that "The tourism and recreation commission appreciates the efforts of all parties to reach an understanding and compromise on the issue."