A camping trip to Death Valley turned tragic after a 6-year-old boy died in the heat. After a search, rescuers found a missing mother and her stuck vehicle in the southern portion of Death Valley National Park, but her son had perished from the heat after the two waited for days to be found.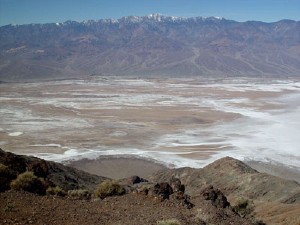 Park officials report that the mother, Alicia Sanchez of Las Vegas, Nevada, set off for an overnight camping trip on Saturday August 1, with her son and her dog. Sanchez was driving a 2005 Jeep Cherokee, with four wheel drive according to Death Valley Chief Ranger Brent Pennington. The temperatures during the days that Sanchez was in the area had reached 117 degrees.
On Wednesday August 5th, park staff started to receive phone calls from concerned family members that Alicia had not returned from her trip and had not shown up for work on Wednesday as scheduled. Why it took so long for family members to report Sanchez missing is unclear, but distance may play a role. Sanchez is a travelling nurse with family in Ohio, Pennington explained. She had also left a message with family saying where she was going.
The last family members had heard from Sanchez was a text message sent August 1st stating she was changing a flat tire in the desert. The park was able to piece together a rough travel plan, but it was not specific enough to narrow the search.
The information provided said she was going camping in Death Valley and staying at one of the free campgrounds, according to park officials. She was also planning on visiting Scottys Castle and Eureka Dunes at the northern end of the park.
Starting around 5:00 am on Wednesday August 5th, Park Officials started to search the free campgrounds in the park, including those in the Panamint Range which are higher in elevation and cooler during the dangerous conditions of summer in Death Valley.
The search was called off Wednesday after dark, but resumed the next morning at 6:00 am. A military helicopter from China Lake was dispatched to assist in the search. With the knowledge that Sanchez wanted to see Scottys Castle and Eureka Dunes, the park focused its search toward the north. The search then worked its way south. .
Park Officials say that a ranger spotted a flat tire and a water bottle along the side of what is known as the Owl Hole Spring Road on the southern boundary of the park. The ranger followed the tracks west, where they led off the main road and followed an abandoned road.
The ranger kept on the tracks, until she finally came across Ms. Sanchez and her family at about 11:00 am Thursday. Park officials say that the victims vehicle was stuck in the bottom of a gravel wash. She had apparently driven her vehicle over an animal burrow. When the soil around the burrow collapsed, the vehicle was buried to the axle.
Sanchez had brought a case of 16 oz water bottles, some snacks and sandwiches, but the heat was too much over the five days. Her 6-year-old son perished on Wednesday August 5th, the same day the woman was reported missing.
Summer heat in Death Valley can turn a minor mishap into a fatality. This tragedy was the third-heat related death in the National Park this summer. Two other people died hiking in the sand dunes near Stovepipe Wells Village earlier this summer. Park Officials say that in those two incidents insufficient or total lack of water, not heeding the park warnings of avoiding hiking at the lower elevations in the park during the summer, and hiking out well beyond their physical abilities ended in deadly consequences.
Why Sanchez had taken this obscure road in the middle of the summer is not clear. Pennington says that Sanchez had a GPS device and a cell phone and says that at one point while waiting for help, Sanchez tried to hike up a rise to find cell service. Cell phones dont work well in Death Valley, Pennington says, and cautions people not to depend too much on technology when travelling in the desert.
Something as simple as a flat tire can be fatal to someone who travels to the lower elevations of Death Valley during the summer months. Park Officials say that it is important for park travelers to be prepared and respect the natural hazards that exist in the desert.
Officials remind visitors to plan their trip ahead of time. The park website has information on suggested places to visit by season with safety recommendations. Also, leave a detailed plan and itinerary with family members, clearly stating when you plan to be back.
Bring water and drink it. Park Staff recommends 1-2 gallons of water per person per day. Extra water and food are recommended in case you end up waiting for help to arrive. A tarp could be used to create extra shade.
A vehicle can get you farther from help than you can walk. Make sure its in good condition and bring a spare tire or two. Many experienced desert drivers carry a large jack, a wrecking bar for leverage, and shovel in case they get stuck. Park Officials also recommend staying on the paved roads during the heat of summer. If something goes wrong, more people will be likely to come by who can help.
Park officials say that the heat will continue for the next two months, but the park is still a great place to explore. Officials ask that if you do head to the park, come prepared.
For more information go to the parks web site at www.nps.gov/deva, or call 760-786-3200.