By Deb Murphy
The Inyo County Board of Supervisors will hold a public hearing on the Adventure Trails Pilot Project Tuesday at 11 a.m. The project has survived eight years of scrutiny, countless public hearings and two lawsuits.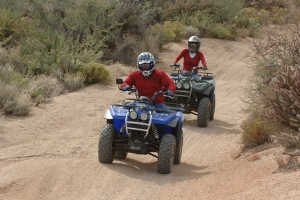 The project has been whittled from the original 70-plus to 36 potential routes down to seven for the Supervisors consideration in late January of this year. Only three are currently in use. The other four have not been approved by the Los Angeles Department of Water and Power, whose land either the routes start or end on, or the Inyo National Forest.
The concept is fairly simple: the routes provide Off-Highway Vehicle access to off-road trailheads. The sole Bishop route begins at Laws and ends at the Poleta OHV Recreational Area; the Independence route begins downtown and ends at Mazourka Canyon Road and the Lone Pine route starts at Boulder Creek and ends at Horseshoe Meadow Road.
The project was set in motion by Assembly Bill 628, allowing combined use routes through January 2017.
County Public Works' Transportation Planner Courtney Smith gave the Supes a snapshot of the draft project report, required by AB 628, last Tuesday in preparation for Tuesday's official public hearing. The data, like the number of routes, were a little thin. The traffic count was described as "fairly light" and there were no impacts on non-motorized routes. The only OHV-related complaint involved side-by-side riders on U.S. Hwy. 168, not part of the Adventure Trails project. Smith also said there were no new trails created as a result of the project.
During the public comment period last Tuesday, it was stated that INF wants a National Environmental Protection Act analysis and LADWP wants the County to assume liability for all OHV use on its lands.
In an e-mailed response, LADWP Aqueduct Manager Jim Yannotta said "LADWP needs to be protected against any liability, environmental harm and be reimbursed for any increased costs on Los Angeles-owned lands as a result of the Adventure Trails project. These concerns have been brought up to the County."
The response from INF was longer but boils down to a Forest Service policy that "defines the jurisdiction of a road as 'the legal right to control or regulate use of a forest transportation facility derived from title, an easement, an agreement or other similar source.' There are none of these instruments in place for the Adventures Trails pilot program that would transfer jurisdiction to the County…. The Forest Service cannot transfer jurisdiction of a road to another entity without doing NEPA." But, "the Inyo National Forest supports the Adventure Trails Pilot program in concept."
The response from the Supervisors was frustration. Without enough data, Chairman Matt Kingsley said, the County "should ask the legislation to extend the pilot program. We need the time to gain more data, get DWP to approve and see if we can work with the Forest Service."
Supervisor Rick Pucci described the lack of approval as "silliness. We should continue putting pressure on DWP. The County has accepted liability. We need to get these roadblocks lifted."