By Deb Murphy
According to Southern Inyo Hospital Administrative Assistant Mary Gonzalez, the hospital's employees will be paid today, Wednesday, Dec. 2, bringing them up to the October 31 pay period.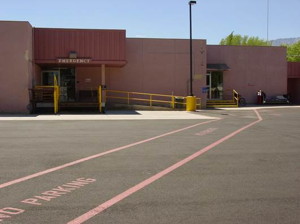 Gonzalez also explained that Chief Executive Officer Lee Barron is working to come up with the $65,000 payment that will keep the Emergency Room open through December.
At its special board meeting held Monday, the board indicated the employees came first, Gonzalez said. No pink slips have been issued.
"The Long-Term Skilled Nursing Facility is not closing," Gonzalez said. The notification to the state, along with a plan for transferring patients, is required if there is any possibility the facility could close. Without an ER physician, SIH cannot have the nursing facility, Gonzalez said. "If the ER doctors (through Coast to Coast Healthcare Services) aren't paid by Wednesday, we will have no doctors on Thursday."
The closure plans are reversible.
"There's always money coming in," explained board member Mary Kemp. "There's just no definite date." Kemp said approximately $400,000 from the healthcare district's parcel tax should arrive in mid-December. That money should bring the payroll up to date according to Gonzalez and possibly keep the ER open through January. Property tax disbursals will also be issued in the next four to six weeks.
In the meantime, discussions are on-going with Ridgecrest Regional Hospital.  Since Ridgecrest is a private hospital and SIH a public agency, any coordination of services requires a Limited Liability Corporation.
Gonzalez said SIH's attorney is working on the required documents and it could be in place within the next two to three weeks. That alliance would allow SIH employee health insurance benefits to be bundled with Ridgecrest as well as cross-overs with information technology and a shared physician for SIH's Rural Health Clinic. In addition, SIH could offer home health care under Ridgecrest's license.
According to Kemp, the hospital is exploring different models for rural health care. "We'll find a way to keep a health facility in Lone Pine," she said. "It just might look different."