The next 2 weeks Sierrawave Presents will be broadcasting the radio play, Mars is Heaven! by esteemed science fiction author, Ray Bradbury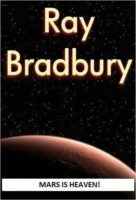 It is 1986 and the first exploratory spaceship from Earth is landing on Mars. The crew is shocked to discover a Rockwellian small town, eerily similar to those they left on Earth. The strangely familiar people in the town believe it is 1926. Crew members soon discover old friends and deceased relatives in the town. Those who had been ordered to stay behind and guard the rocket abandon their posts in order to join the reunions and festivities.
Members of the crew split up to spend the night in the homes of their lost comrades and relatives. The ship's captain remains skeptical and realizes in the middle of the night that telepathic aliens may have contrived the entire situation to lower the Earthmen's guards.
Part 1: May 24- 28 at 8:00 pm – Sierra Wave Presents (M-W-F)
Part 2: May 31-June 4 at 8:00 pm – Sierra Wave Presents (M-W-F)
Tune in on Alt 92.5 KSRW the Sierrawave at 8pm to catch Sierrawave Presents: Mars is Heaven!