This weeks Sierrawave presents is brought to you by, Playhouse 395.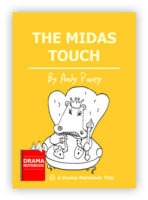 The Midas Touch
 is short comedy based on the beloved fairy tale. In this version, the greedy king Midas is demanding everything in his kingdom be bedazzled and sparkling! The peasants are frustrated by his ridiculous and greedy requests but when a cloaked stranger offers him one special wish, he outdoes himself. Being granted the gift of turning everything he touches into gold, the entire kingdom and his daughter turn against him. This hilarious play is perfect for children of all ages and presents a 
golden
opportunity to teach a valuable lesson! Written by Andy Pavey and performed locally by
Playhouse 395
.
FEATURING
King Midas          Patrick Thompson
---
Gardener             Jesse Steele
---
Fisherman           Shawn Louth
---
Seamstress          Karen Keehn
---
Court Jester         Ghym Williams
---
Marigold               Grace Griego
---
The Stranger        Martha Reynolds
---
The Midas Touch was produced and edited by Abby Stoiber
Tune in next week to hear the next installment in Trevor VanWinkle's series, Homestead on the Corner. Blindsights, is a western about a blind, old piano player and how his, not so virtuous past…comes riding into town, on the breeze to catch up with him….
Sierrawave Presents, airs on alt 92.5 KSRW Mon, Wed, and Fri at 8pm!