Sierra Wave Presents, is brought to you by Inyo Council for the Arts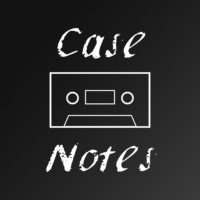 This week on Sierra Wave Presents: C
ase Notes,
by Homestead on the Corner. Written and Directed by Trevor Van Winkle.
In the desert town of Agate Shore, detective Sam Bailey investigates a series of mysterious drownings linked to the town's past – and his own. As the voice recordings of his case notes play out, a sinister, supernatural thread appears that threatens not only his life, but his sanity.
If any of you loyal listeners are fans of Trevor Van Winkle. Then you may recognize the lead character from Case Notes, already. Detective Sam Bailey, becomes a reacquiring protagonist in Trevor's acclaimed series, The Sheridan Tapes. The Sheridan Tapes, has the same story telling gimmick as Case Notes. The whole series is told through the character's speaking into different recording devices. It leads to a lot of creativity and great storytelling. To follow Sam in his ongoing supernatural adventures, Check out, The Sheridan Tapes, anywhere you get your podcasts.
Tune in, Mon at 11am, Wed at 3pm and Fri at 8pm for Case Notes on Sierra Wave Presents.