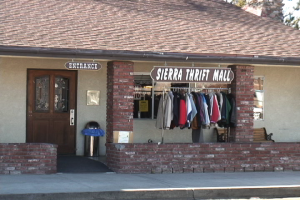 The following information is from Bishop police Dept.
On Saturday January 21, 2012 at approximately 0615 hours Bishop Police Officers were dispatched to an
audible alarm sounding at the Sierra Thrift Mall located at 371 South Warren Street. When officers
arrived, they checked all available doors and found no evidence of anyone in the building. Officers
attempted to contact a responsible for the business in order to gain access inside, but were unable to
get a hold of anyone, and therefore officers cleared the location.
Later the same day, at approximately 0833 hours officers were once again dispatched to 371 South Warren
Street for a report of flooding inside, along with internal damage to doors within the building.
Officers made contact with the reporting party on scene and confirmed the damage. Officers requested
the assistance of the Bishop Volunteer Fire Department in order to turn off the water flow to the fire
sprinklers. Fire Chief Seguine advised Officers on scene a small fire had been set in the back room of the
business thus causing the fire sprinklers to be activated, creating a flood in the building.
Officers located a window and a door which had been forced open in order to gain access into the business.
According to the responsible on scene, there was damage to some interior doors but there were
no items missing of significant value. Officers are investigating this incident and are actively looking for a
possible suspect.
The Bishop Police Department would like to ask business owners in the City of Bishop to please make sure
they have current and accurate information on file regarding their business. Please provide the Police
Department with responsible names and phone numbers pertaining to the business so we may contact in
case of an emergency. Business owners can contact the Bishop Police Department directly at (760) 873-
5866 and or fax the business information to the Police Department by obtaining the proper form from
City Hall.